Slide 1
The Siding Installation pros!
Serving Baltimore and Surrounding Counties for Over 10 Years.
LET'S START WITH A FREE ESTIMATE
Siding Installation Hydes, MD 21082
Protect Your Home With Siding Installation From Hammer Home Improvement In Hydes, MD
Siding is the first thing people notice about your home. It is the most neglected exterior feature. Siding installation is important for your home's appearance, energy efficiency, curb appeal, and weather protection. Your siding's job is to act as a barrier to protect your home from the elements, such as wind, rain, snow, and high temperatures.
A well-maintained, high-quality siding installation keeps your property secure and increases its value. The vinyl siding installation team at Hammer Home Improvement in Hydes, MD can give your home the appearance and security you require, whether you choose fiber cement or vinyl siding installation.
At Hammer Home Improvement, we take great pride in using the best siding replacement products. You will get warranties and assurance when you hire our siding contractors near me in Baltimore County for your siding installation project.
Benefits Of Hiring A Professional Siding Contractor
What advantages do siding contractors offer? Are you wondering whether doing the siding repairs and installations yourself would be more cost-effective than employing professional siding contractors near me in Baltimore County?
How much your home gets influenced by the type of vinyl siding installation you get? There are several advantages to hiring skilled siding contractors, regardless of whether you plan a exterior decoration of your home or simply want to address some damage.
1) Saves You Time & Money
It isn't cheaper to do it yourself. Expert siding contractors will save you money as they will do the job quickly. You may have to entirely recreate your DIY project if something goes wrong, which may cost you extra money. Skilled siding contractors near me guarantee their work, allowing you to relax knowing that there won't be any further siding repair issues.
2) Proper Insulation
Insulation is crucial in siding for your home's security and energy efficiency. To provide your siding with the best possible defense against the elements, skilled siding contractors near me know how to put insulation underneath your siding.
3) Expertise & Experience
You should hire professional siding contractors to place siding on your home. Siding contractors near me know how to spot trouble spots before they endanger your house. For longevity, effectiveness, and protection, these professionals can assist you in selecting the materials for your home and installing them.
The professionals can help you in making siding replacement choices. They describe the advantages and disadvantages of each product and assist you in selecting the one that suits your requirement and price range.
4) Materials
Due to the partnership with manufacturers, professional siding contractors will have easy access to high-quality goods at competitive prices.
Producers prefer to have their goods sold in bulk through siding contractors rather than retail establishments as customers might not be fully aware about siding replacement. The professionals can negotiate lower prices for the materials used.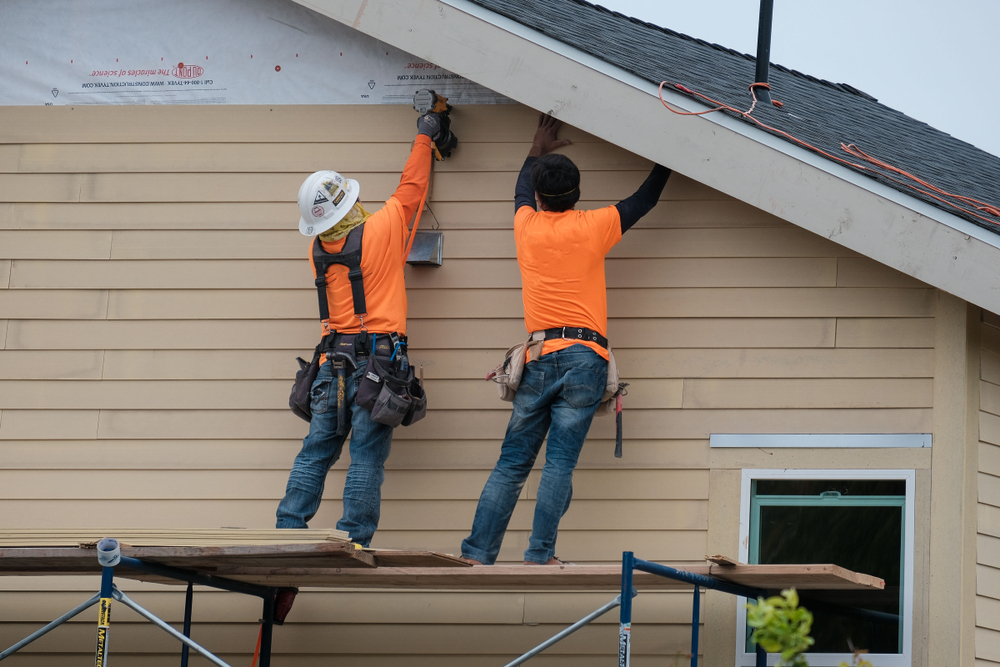 You'll be able to purchase high-quality products at a lesser amount than you would have to spend if you purchase them yourself. You can access options like siding colors, styles, and types in Hydes, MD.
5) Time-Saving
Hiring qualified siding contractors near me to complete the work will save you time and effort. You'll save enormous time as you don't have to remove old siding, install new siding, seal seams, and complete other finishing touches.
Let Us Protect Your Home With Siding Installation!
Don't look further if you need skilled siding contractors near me! For many years, Hammer Home Improvement has delivered top-notch work to the residents of Baltimore County. Our vinyl siding installation experts offer incredible services to our customers.
We are committed to finishing each task quickly and effectively. Customer satisfaction is our top goal. For every siding replacement project, our siding contractors only use the best materials, cutting-edge tools, and creative methods.
You can be sure that your requirements are met by our highly skilled siding contractors near me when you choose Hammer Home Improvement in Hydes, MD. Contact us at 443-364-6245 today to learn more about our siding installation services.
Useful links for Hydes, MD
Directions from Hydes, MD to Hammer Home Improvement
---
Here are some home remodeling-related links: