Custom Basement Remodeling
Exceptional Basement Remodeling For Harford And Baltimore County
Basement Remodeling For Endless Possibilities
For a homeowner, a basement is a location full of countless opportunities for a remodel. It has the potential to be a home office, laundry room, craft area, or game room. Your best option for services, functionality, and design for basement remodeling is Hammer Home Improvement. The spare room in the basement can be turned into a useful, appealing living area that increases your quality of life and home value.
Whether to make a welcoming space for hosting friends, use it as a gathering spot for family, or utilize your space for personal errands or entertainment, we have skilled professionals on staff who can finish tasks completely and successfully. With our company's 10 years of experience in the home remodeling industry, we can assist you in creating a welcoming, comfortable, or professional atmosphere in your basement. We'll give you everything you need to make your area uniquely yours. By using our services, we will provide high-quality service with exceptional results.
Comprehensive Basement Remodeling
Hammer Home Improvement is a family-run and owned business that has had great success working in Baltimore and Harford Counties. With our basement renovation services, we'll help you maintain, even improve, your home's monetary value while making your home feel complete. One of the most crucial factors in ensuring the longevity of a basement is the waterproofing work done by our team of specialists to stop frequent leaks and moisture intrusion. We give every basement renovation work 100 percent, no matter how big or small the task. Our services also include french drains, moisture barrier walls, and adding and removing walls to increase the space of your basement.
We can assist with any electrical work you need to be done to set up your basement, as well as any plumbing you need for a new utility or laundry room. Our basement remodeling staff offers comprehensive service and is skilled in efficient installation.  For our clients, we provide high-quality work using high-quality supplies. To ensure client satisfaction, we work hard to do tasks correctly the first time.
Improving Your Home One Room At A Time
Choose Us for Your Bathroom Remodeling Services
Take advantage of your secluded space to make it your own with a customized basement remodel. Whether you want to create a home theater, install a new bathroom, or construct a new workout room, we are dedicated to giving you the best services and dedicated staff to make that happen. Your basement will look finished and have the function it needs to improve the look and feel of your home. 
You can count on our team of experts to provide excellent and dependable service with a focus on attention to detail. We'll make sure your project is finished on schedule and work with you to meet all of your remodeling needs. Transforming your basement boosts the value of your house and improves the quality of day-to-day living in your new space. Hammer Home Improvement is pleased to offer affordable basement remodeling to give your room a fresh, homey feel.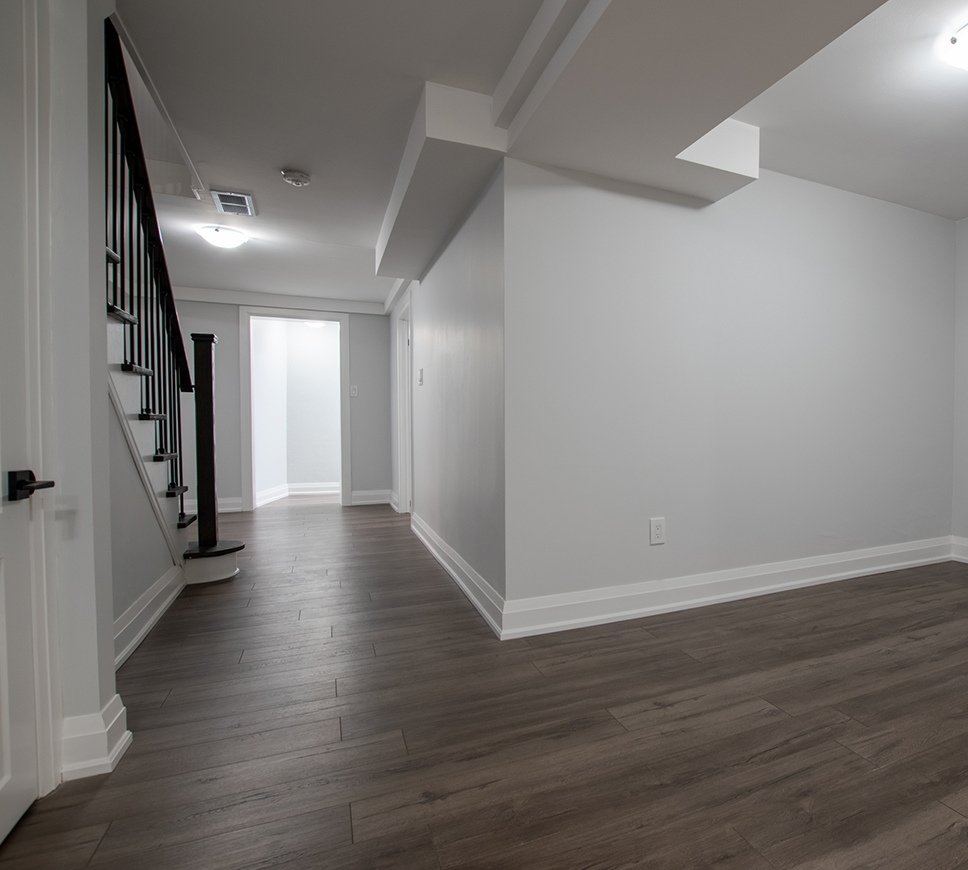 Why Choose Us? 
   

Free Estimates
For our clients in the Baltimore and Harford County locations, we offer free estimates while still providing first-rate services.
 

High-Quality Service
We are fully committed to providing excellent service from the beginning to the finish of our projects, with competent specialists dedicated to the design and detailed completion of each project.
Dependable Service

 
We offer full-service basement remodeling while upholding the highest standards for our staff and our work.
LET'S GET YOU STARTED WITH A FREE ESTIMATE
By clicking here, I agree to be contacted at the number or email provided