Professional Bathroom Remodeling
Full-Service Bathroom Remodeling For Harford And Baltimore County
Dependable Bathroom Remodeling Services
By choosing Hammer Home Improvement, you can achieve the bathroom of your dreams easily and effectively with our bathroom remodeling services.  A bathroom should be a tranquil and functional place for privacy. Our services can make it more efficient, becoming a haven of peace and tranquility to relax and unwind. Bathroom remodeling can give your bathroom the upscale appearance you desire while also improving your home's value. We offer remodeling services for faucets, sinks, showers, toilets, and other fixtures to restore or improve their functionality and appearance.  
The bathroom is more than just a space for practical purposes, whether you choose it to be pristine, bright, and spa-like or warm and inviting. Our services improve the aesthetic value of a bathroom as well. We have a variety of styles and designs to choose from, such as implementing new vanities or cabinets. We'll give your bathroom a clean, polished look. In both design and implementation, we make sure we offer only the best to our customers in Harford and Baltimore County.
Make the Most of Your Space
With effective placement and bathroom consultation, our bathroom services can help you make the most of your available space. We'll make sure you are getting the best energy efficiency with your newly installed plumbing. Small changes in energy-efficient appliances, such as new toilets or water-conserving showers can add up to reduced costs that drastically lower your utility bills. 
Whether your bathroom needs standard repairs, replacements, or new installations, our specialists are more than up to the task. To provide you with the proficient service you need, we also offer custom work. We can add features such as tile backsplashes, new light fixtures, flooring, and tile work. Our team is dependable and experienced, and we have access to high-quality materials to help fulfill your bathroom's vision. We give you the peace of mind that what you are looking to have done will be completed in a timely manner and within your budget.
Improving Your Home One Room At A Time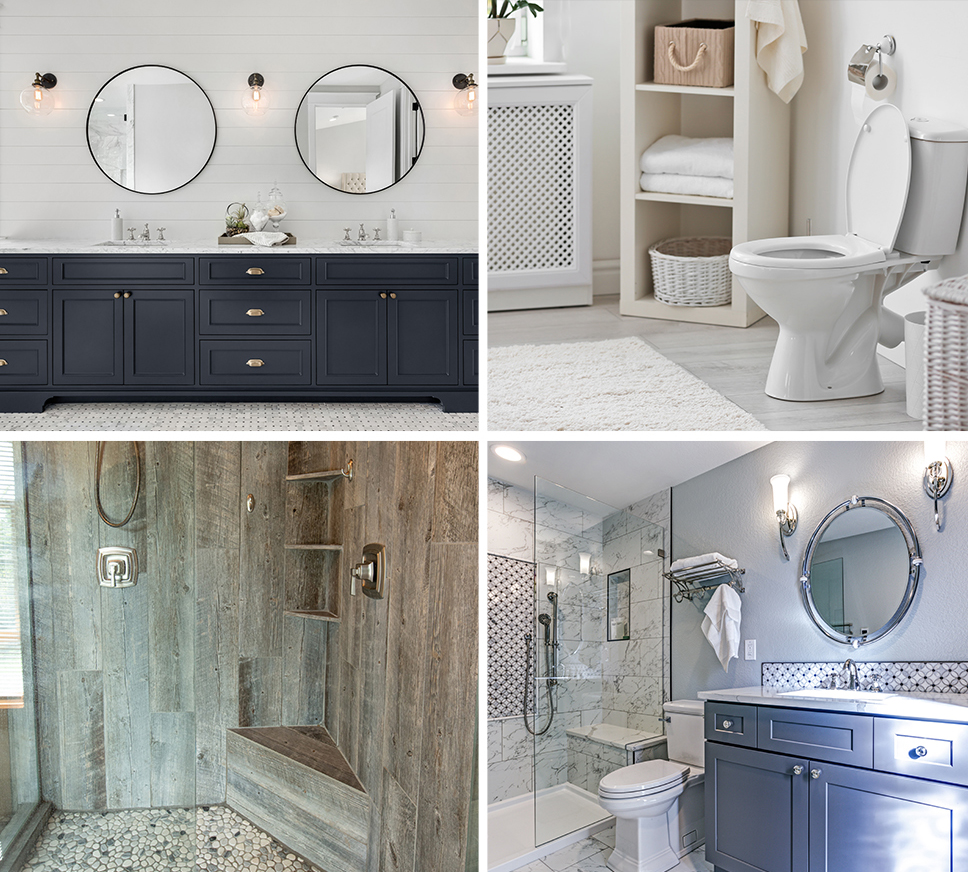 Choose Us for Your Bathroom Remodeling Services
Bathroom remodeling is a terrific technique to transform a plain bathroom into a gorgeous one. Hammer Home Improvement's bathroom remodeling will give your room new life, whether you choose to go for a modern, tech-savvy appearance or a more traditional look with modern conveniences. From selecting new floors to a state-of-the-art bathroom transformation, we are the company you can trust with efficient and reliable service. Hammer Home Improvement is the perfect company to help you with custom solutions that can meet your bathroom needs and style effectively. We offer flexible renovation services so you may get the private, peaceful bathroom you desire.
We are an all-inclusive company for the best tile floors, tubs, and showers. Hammer Home Improvement has remodeling options that are convenient and affordable for our customers. We believe in offering fair prices for the best services. No matter what you want to change, remove, or upgrade, we have you covered with cost-effective, reliable service.
Why Choose Us? 
   

We're Dependable
With talented specialists committed to the design and skillful workmanship of each project, we are fully committed to offering outstanding service from beginning to end of our projects.
 

We're Efficient
We know how important it is to have a job done right. We have the experience, high-quality materials, and professional touch to ensure it's done right the first time.
   

Full Service
Bathroom remodeling services should be as hassle-free and simple as possible. We make sure to have the best floors, tubs, cabinets, and tile services all in one place.
15% Off
A Bathroom Remodel
Offer valid until 9/30/2023
Cannot be combined with any other offer
LET'S GET YOU STARTED WITH A FREE ESTIMATE
By clicking here, I agree to be contacted at the number or email provided