Slide 1
The kitchen remodeling pros!
Serving Baltimore and Surrounding Counties for Over 10 Years.
LET'S START WITH A FREE ESTIMATE
Experience Kitchen Remodelling Services At Hammer Home Improvement In Sparks Glencoe, MD
Do you want to remodel your kitchen to create a functional space tailored to your family's needs? Hammer Home Improvement in Sparks Glencoe, MD is an all-in-one kitchen remodeling contractor you can trust, whether you need a few design tweaks or a complete kitchen renovation. We provide everything you need to design a beautiful, functional kitchen.
Our team in Baltimore County remodel your kitchen into the space you've always wanted, whether it's rustic kitchen makeovers that bring the family together or modern kitchen makeovers with the latest technology.
Our kitchen designers in MD use only the best tools and materials for the job, allowing you to get the kitchen of your dreams while staying within your expected kitchen renovation cost.
Whether you're starting from scratch, remodeling an old kitchen, or renovating an existing kitchen to give it a new look, Hammer Home Improvement can meet your needs at your kitchen renovation cost, inspire you with creative ideas, and ensure that you're completely satisfied.
Explore World-Class Materials For Kitchen Remodeling
As a professional kitchen remodel team near me in MD, we have established connections and partnerships with various kitchen contractors and manufacturers. Here are a few things we can assist you with:
1) Cabinets In The Kitchen
We work with cabinetry in various styles, eras, colors, and materials, ranging from shaker cabinets to modern high-gloss cabinets. We find the perfect design for you, whether you want old-fashioned cabinets for a small kitchen remodeling or soft-close glossy cabinets.
2) Kitchen Countertops
Our kitchen renovation specialists at Hammer Home Improvement have various countertop designs to match your needs, whether you need granite, marble, Corian, or laminate.
3) Backgrounds
We choose the right backsplash to complement your countertop and overall kitchen design, whether you want ceramic tiles, mosaics, subway tiles, or modern glass and steel tiles.
4) Appliances
Our kitchen remodeling team in Baltimore County can quickly suggest the most suitable refrigerators, ovens, sinks, mixers, and general kitchen appliances to enhance your design and offer you many years of outstanding service.
Our Kitchen Remodelling Process
When you work with Hammer Home Improvement in Sparks Glencoe, MD, we adhere to a specific design process to streamline your vision, incorporating the elements you desire and pinpointing a kitchen design that meets your needs.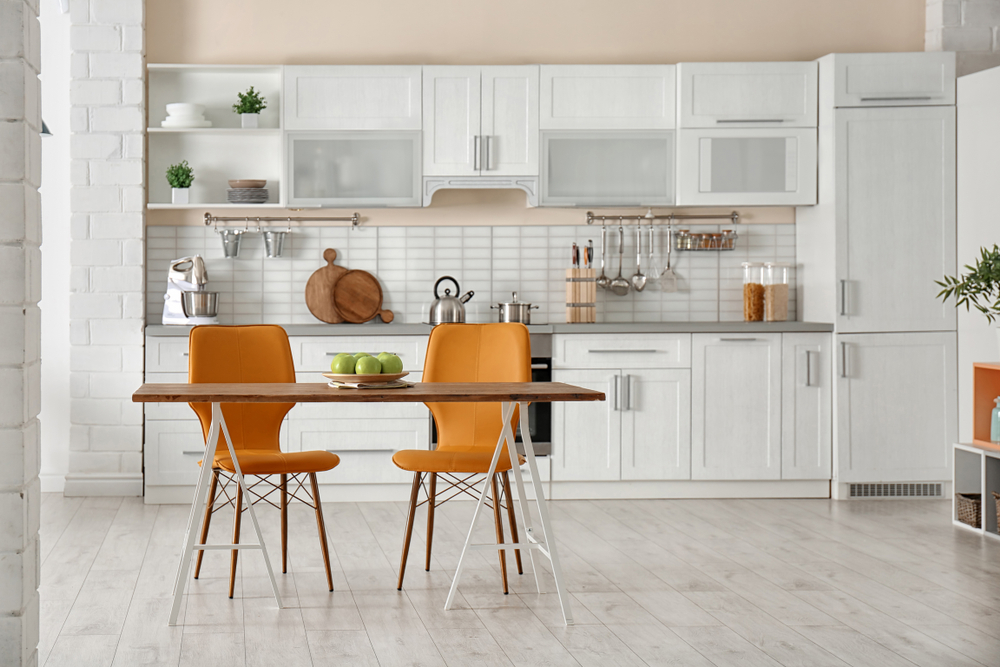 To assist you with your big or small kitchen remodel, our interior designers and kitchen specialists in Baltimore County will take the following steps:
1) First Consultation
First and foremost, our experienced interior designers meet you to learn about your vision for your new kitchen. We'll inquire about the styles you prefer, the colors you prefer, the mood you want to create, and how you use your kitchen. We are transparent about the kitchen remodels cost during the initial discussion.
2) Dimensions
Once the basic design is agreed upon, we evaluate your space to ensure that we have the correct measurements for your countertops, wall cabinets, islands, backsplashes, refrigerators, and other elements to fit into the space.
3) Prepare The Design
Once the measurements are taken, we configure the kitchen based on the space limitations.
4) Finishing Touches
Once we've decided on the layout and general design, we'll go over the details and finishing touches, advising you on the best details to emphasize the overall look and feel of the space.
Why Choose Hammer Home Improvement For Kitchen Remodeling Services?
Our innovative kitchen remodeling services assist you in the following:
Redesign and remodel your kitchen space to breathe new life into your home
Determine your project scope
Plan budget-conscious kitchen design, considering finances, materials, labor, & kitchen remodel costs
Increase the value of your home and make it a high selling point on the market for future home buyers.
Kitchen Remodeling Experts At Your Service
Hammer Home Improvement in Sparks Glencoe, MD has a skilled kitchen remodel team near me ready to help you with your next project.
We work with the best contractors and partners, so you can be confident that you will have a fantastic experience from start to finish. If you're looking for a professional kitchen remodel, contact us on 443-364-6245 to learn more about how we can assist you!
Useful links for Sparks Glencoe, MD
Directions from Sparks Glencoe, MD to Hammer Home Improvement
---
Here are some home remodeling-related links: