Slide 1
The kitchen remodeling pros!
Serving Baltimore and Surrounding Counties for Over 10 Years.
LET'S START WITH A FREE ESTIMATE
Give Your Kitchen The Attention It Deserves With A Kitchen Remodeling Solution From Hammer Home Improvement In Aberdeen Proving Ground, MD!
The kitchen is the heart of every home. It is where food is made, and loved ones get together to eat, laugh, and rejoice. You deserve kitchen makeovers that accommodate your needs, whether you're a busy parent preparing quick meals for a growing family or a gourmet chef who enjoys hosting dinner parties for guests.
Hammer Home Improvement has remodeled kitchens for households in Aberdeen Proving Ground, MD. If your kitchen is outdated, we can complete a floor-to-ceiling redesign to give you the cooking space you've always desired. We can make simple adjustments to give your kitchen a facelift without completing a kitchen renovation.
Overview Of Our Custom Kitchen Remodeling Services
When you work with us for kitchen makeovers, our interior designers ensure the new room satisfies your requirements while giving your kitchen a brand-new look in Harford County.
A computerized 3D representation of your kitchen is available as per your preferences. Your small kitchen remodel can have any combination of the following: appliances, lighting, cabinets, counters, flooring, fixtures, colors, and accessories. Our kitchen remodels designers near me are constantly on hand to provide advice and recommendations.
Our team at Hammer Home Improvement can take care of every facet of the job, including the plumbing and electrical work, to realize your vision. Our certified experts will handle every remodel stage with the utmost craftsmanship and attention to detail in Aberdeen Proving Ground, MD. We only use the finest materials and products in our installations.
Create A Kitchen That Works For You
Getting a kitchen renovation can be as simple as picking up the phone for a makeover that fits your timeframe and budget. Contact Hammer Home Improvement for a free in-home consultation.
Hammer Home Improvement is a reputable brand in kitchen renovations in Aberdeen Proving Ground, MD having years of experience advising homeowners.
1) Kitchen Cabinets
The major aspect of a kitchen makeover is the refacing or replacement of kitchen cabinets. Hammer Home Improvement has numerous cabinet door designs & color options.
Hammer Home Improvement in Harford County ensure your cabinets can manage your storage demands to ensure your hanging wall cabinets blend with the aesthetics of your windows.
2) Kitchen Countertops
These significantly influence your kitchen's aesthetic and functionality. Any kitchen should consider these factors when choosing a countertop style and material. Common materials include wood, Formica, granite, tiles, quartz, laminate, and various solid surfaces.
Homeowners can choose countertop edges, colors, and sizes in addition to the choice of materials. While Formica and other alternatives might be less expensive, materials like granite will add more value and are frequently more durable.
3) Kitchen Backsplashes
There are various options for backsplashes, with gorgeous glass designs, repurposed bricks, ceramic tiles, and elaborate mosaics, all becoming increasingly popular in recent years.
Solid materials like metal and stone are effective, especially when the rest of your kitchen's design complements it. Various supplies and goods are available from Hammer Home Improvement to help you design the kitchen of your dreams.
Kitchen backsplashes give your kitchen life. The professionals at Hammer Home Improvement have the experience & knowledge necessary to build the kitchen of your dreams in Aberdeen Proving Ground, MD if you're looking for kitchen makeover ideas.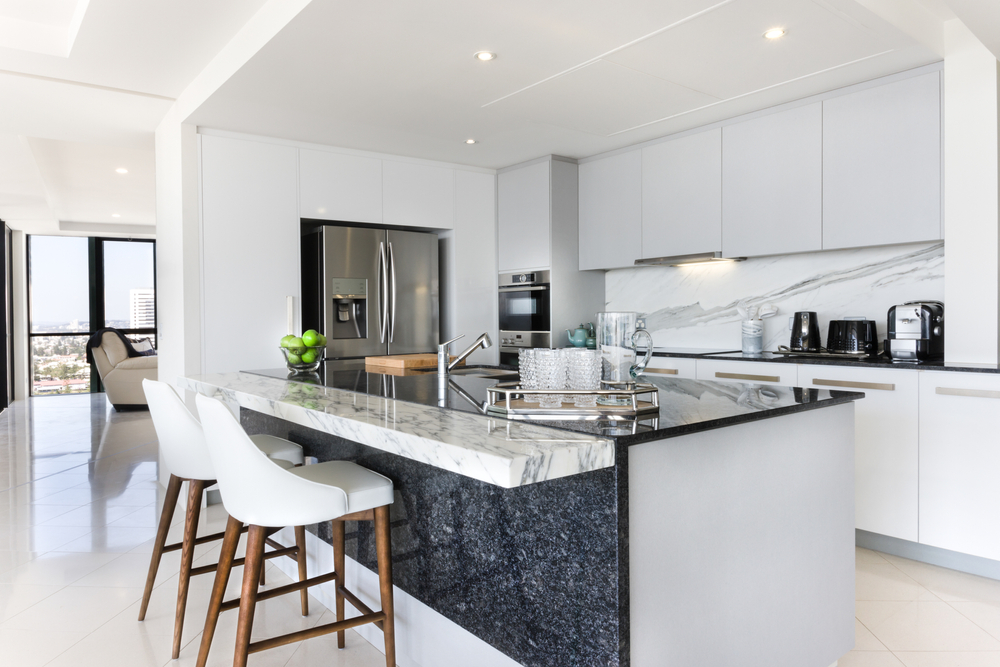 Your One-Stop Kitchen Makeover Solution
Many people believe that the kitchen is the most significant space in a house. Spending time there brings back many memories from the past and the future. Holidays, hosting friends and family, and having fun cooking and dining with someone special are just a few examples.
Hammer Home Improvement in Aberdeen Proving Ground, MD helps you with kitchen remodeling near me, whether you want a modest or major kitchen renovation.
We guide you as you select the cabinets, countertops, tiling, fixtures, lighting, and other components that will go into making your dream kitchen a reality.
We treat you with the utmost respect, maintain cleanliness, and work quickly and effectively. For kitchen remodeling near me, call our qualified team at 443-364-6245 immediately!
Useful links for Aberdeen Proving Ground, MD
Directions from Aberdeen Proving Ground, MD to Hammer Home Improvement
---
Here are some home remodeling-related links: