Slide 1
Serving Baltimore and Surrounding Counties for Over 10 Years.
LET'S START WITH A FREE ESTIMATE
Deck Builders Overlea, MD 21206
Build The Deck Of Your Dreams With Deck Builders At Hammer Home Improvement In Overlea, MD
Nothing can beat the aesthetic appeal of a well-designed deck. Decks can be located closer to or farther from your home. They are ideal for outdoor entertainment & enhance the value of your house. Whatever your vision is, our deck installation experts can make it a reality.
For your porch & deck installation requirements in Baltimore County, contact Hammer Home Improvement. Our professional deck contractors can help you earn extra living space from a front porch or a patio.
Decks offer an area where your family can make memories. Only a few experiences in life can compare to a carefree evening spent outside with loved ones. What better way to truly appreciate those moments than having a porch or deck inside your home?
You should hire expert porch builders if you have the space to complete the deck project of your dreams! It has been simpler than ever to start a deck installation project and turn your ideal deck into a reality. Hammer Home Improvement knows how to do the task successfully in Overlea, MD! Let us look at our three-step deck-building processes.
Our 3-Step Deck Building Process
Our knowledgeable deck contractors explain each stage of the process. Our porch builders understand your requirements throughout the process, from initial estimates to site visits in Overlea, MD.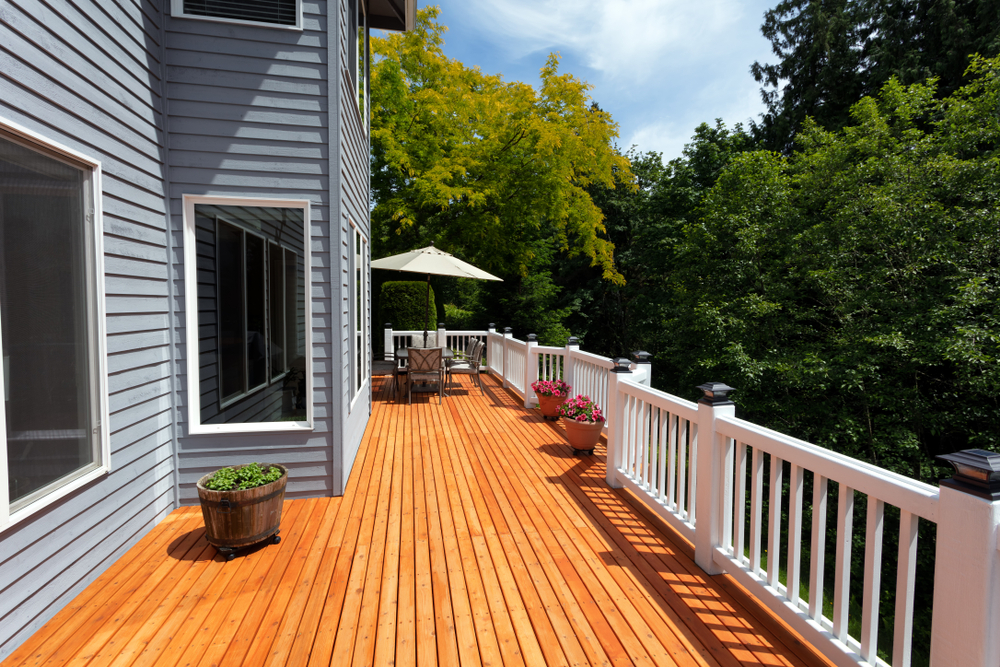 a) Design: Our porch builders comprehend your expectations and surpass them. We provide a no-cost estimate in Overlea, MD.
b) Inspection: Our porch builders constantly check on and manage the deck installation Our engineers and architects are here to help you whenever you need them. We'll make sure the project complies with local regulations.
c) Construction: Expert deck companies can make your dream into reality. We will handle everything from demolition to meeting the city inspector etc. Our deck contractors promise that everything will go off without a hitch.
Types Of Decks
You probably have more alternatives than you assumed for deck and porch design. You can place a deck over an underused driveway, a garage, or a new side yard.
You can construct directly from home or enclose a portion of the front yard to create a courtyard deck in Baltimore County. The possibilities are endless. Let us help you with the types of decks we offer:
a) Attached Deck: As the name implies, an attached deck is built against the house and can be used as an outdoor living area. You can expand your home by adding a new room.
b) Island Deck: For homeowners who can't or don't want a deck right next to their house, detached deck installations are ideal. These decks offer a lot of capabilities while working on an uneven surface.
c) Wraparound Porch/Deck: Homeowners love wraparound porches because they provide various advantages. Nevertheless, a wraparound deck has a room-like structure with seating and entertaining areas.
d) Multi-Level Deck: Multi-level decks are a good option for homeowners with plenty of uneven property. These decks foster a sense of peace and discovery.
e) Side Yard Deck: Do you have any room taking up space but isn't being used? A sideyard deck is like a blank piece of art.
f) Entryway Porch & Deck: Entryway porch from deck companies is similar to the front porch but provides architectural design and composite decking alternatives. They are an excellent add-on to create a front porch without making it look like a last-minute decision.
Redesign Your Outdoor Space With A Custom Deck!
Hammer Home Improvement can help you whether you need deck installation, a new design, want to extend an existing deck, or need minor repairs. For all of your deck, porch, & patio needs in Overlea, MD, you can rely on Hammer Home Improvement.
Our porch builders can install a new, customized deck or replace your existing deck with an affordable one. We provide the best choices once you share your goals and budget. Call us on 443-364-6245 for a free consultation in Baltimore County.
Useful links for Overlea, MD
Directions from Overlea, MD to Hammer Home Improvement
---
Here are some home remodeling-related links: