Slide 1
Serving Baltimore and Surrounding Counties for Over 10 Years.
LET'S START WITH A FREE ESTIMATE
Deck Builders Baltimore County, MD 21162
Our Deck Builders At Hammer Home Improvement Builds Innovative Decks In Baltimore County, MD
Are you looking to expand your existing deck or improve your outdoor living space? High-quality decks provide more than just additional outdoor space. It increases the value of your home while also serving as a beautiful gathering place for your family and friends.
If you are considering adding a deck to your home, hire an experienced deck builder in Baltimore County, MD. Our deck contractors at Hammer Home Improvement will design a space that meets your specific needs while complementing the architecture of your home.
We use high-quality materials and guarantee all work once completed. No project is small or large for our deck contractors in Baltimore County! Our porch builders can build simple wood decks or composite decks with a screen room.
Reasons To Build A Deck On Your Property
Although adding a deck to your home may sound daunting, there are numerous advantages. You can design a lovely outdoor retreat with the assistance of deck companies. Following are the advantages of having a deck at your home.
1) Increases The Resale Value Of Your Home
A deck can significantly increase the resale value of your home if you believe your current residence may not be your forever home.
2) Increase Living Space
Speaking of functionality, your new deck increases the livable space in your home. You'll have new places to work, play, and spend time with your family and a larger area to store your outdoor belongings.
3) Improve The Look Of Your Yard
There are numerous ways to improve the appearance of your yard, including gardens, a pergola, privacy fencing, and new grass. A deck installation in your home can improve the aesthetics of your yard. A finished wood deck can transform a plain yard into a modern area.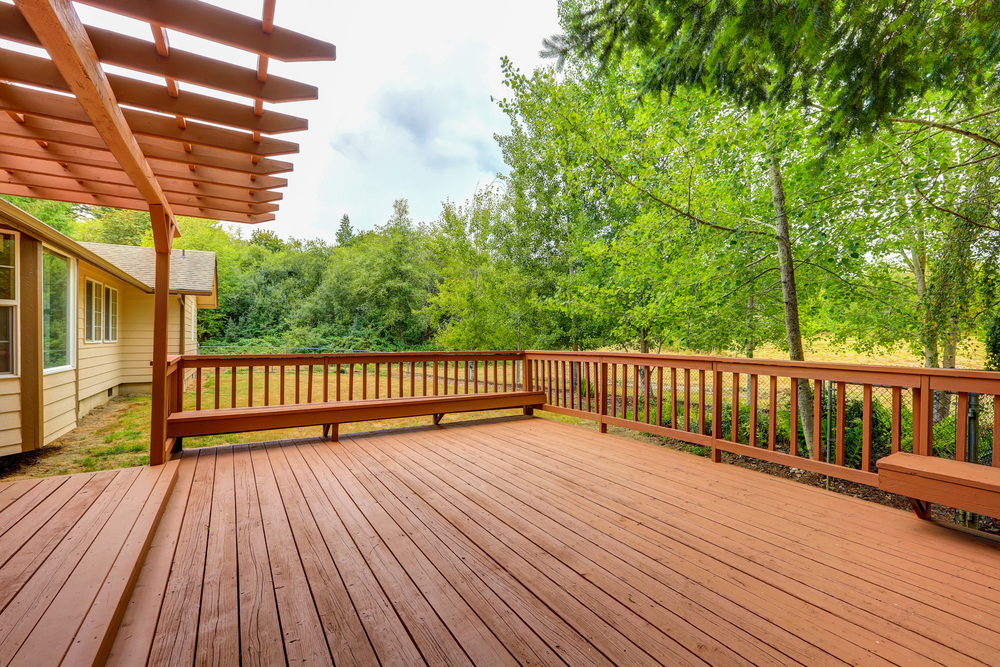 4) Easy To Maintain
Unlike other rooms in your home, your deck is low-maintenance and requires little effort to look nice. While expanding your kitchen may increase your cleaning time, you won't find yourself sweeping or washing the deck. The decks usually don't require maintenance.
Why Are We The Best Deck Builders In Baltimore County, MD?
1) Years Of Expertise
Our deck contractors in Baltimore County, MD, have years of experience building decks. We are committed to realizing your vision, no matter how large or small the project is. Customer satisfaction is our priority, so Hammer Home Improvement is the best in town.
2) High-Quality Materials
We only use the highest quality materials while building your dream deck. We offer many materials, including pine wood, cedar, redwood, exotic tropical hardwoods, Trex composite decking, and more!
3) Affordability
We have reasonable rates to accommodate any budget! Our porch builders in Baltimore County find a solution to build the deck of your dreams. Every homeowner deserves to see their dreams come true! Contact us right away to see if you're a good fit.
Our Comprehensive Range Of Deck Remodeling Services
Our deck installation experts at Hammer Home Improvement in Baltimore County can assist you with all of your deck building needs including:
New composite deck installation
New wood deck installation
Extending your current deck
Deck design consultation
Updating deck boards
Updating deck railings
Install lattice around decks
Deck repairs
Deck Refinishing
Deck power washing
Meet Our Deck Builders In Baltimore County, MD!
Hammer Home Improvement can help you whether you need deck installation, a new design, want to extend an existing deck, or need minor repairs. For all of your deck, porch, & patio needs in Baltimore County, MD, you can rely on Hammer Home Improvement.
Unlike other deck companiesin Baltimore County, MD Hammer Home Improvement is a well-known name in deck design, construction, and maintenance. Whatever your vision is, our deck installation experts can make it a reality.
We specialize in custom deck design and construction, so you can be confident that your deck will be long-lasting. If you're ready to upgrade your outdoor living space with a new deck, call Hammer Home Improvement at 443-364-6245 for a free quote.
Directions from Baltimore County, MD to Hammer Home Improvement
---
Here are some home remodeling-related links: