Slide 1
The Bathroom Remodeling Pros!
Serving Baltimore and Surrounding Counties for Over 10 Years.
LET'S START WITH A FREE ESTIMATE
Top Three Characteristics You Must Look For In A Bathroom Remodeling Company In Aberdeen, MD!
Are you planning to give your bathroom a complete makeover with the latest bathroom renovation designs & hygiene facility? You must choose a reliable bathroom contractor near me in Aberdeen, MD for the best bathroom remodeling results.
Bathroom remodeling not only improves bathroom hygiene but works extensively on the bathroom's aesthetics & increases property values. One must go for bathroom remodeling in Aberdeen, MD with the assistance of experienced bathroom remodeling contractors to get optimal results.
The quality & credibility of a bathroom renovations team has a lot to do with the degree of excellence in aesthetic designs, especially in tasks like shower remodeling. In Harford County, many bathroom remodeling contractors offer their bathroom renovation service at different bathroom renovation cost brackets.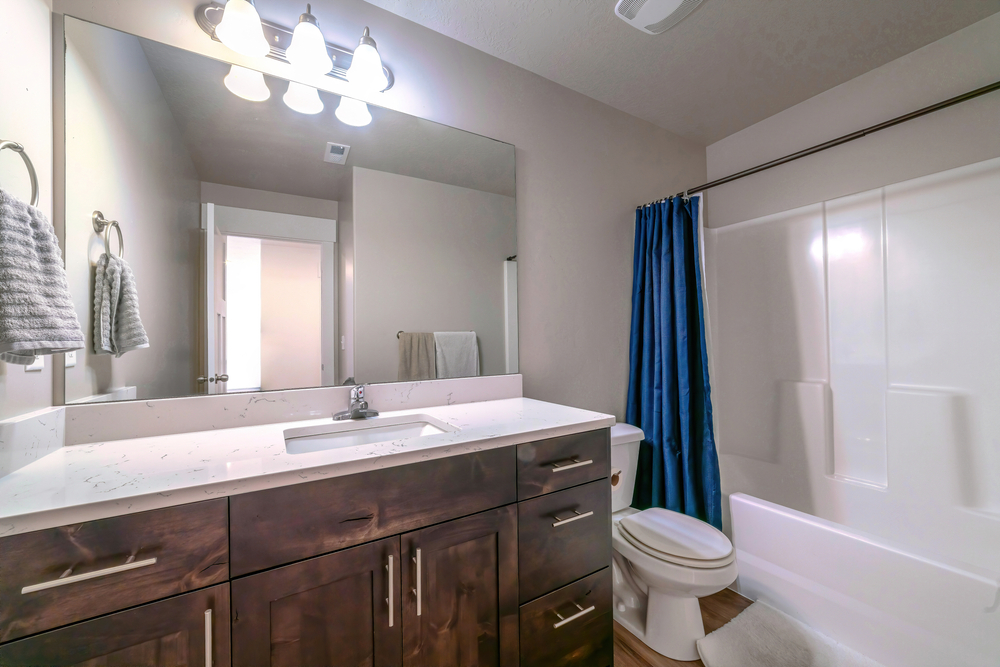 One must choose a company for bathroom remodeling services in Aberdeen, MD, having characteristics of an incredible bathroom remodeling contractor.
Hammer Home Improvement has listed three characteristics that one must look for in a bathroom remodeling company before hiring them for bathroom renovations in Harford County to make it easier for anyone looking for the best bathroom remodeling services.
1) Vast Experience
The most important characteristic one must look for in nearby bathroom remodel contractors is their experience in the bathroom remodeling services industry. One must ask the bathroom remodeling company about its background & track record during the screening of the bathroom contractors near me in Aberdeen, MD.
At Hammer Home Improvement, our professionals hold over a decade of invaluable experience in bathroom remodeling services like plumbing, toilets, flooring & tile work, etc. Moreover, at Hammer Home Improvement, the entire team is prompt in giving a top-notch makeover to the bathroom, be it a small bathroom remodel project.
2) Necessary Licence & Insurance Policy
Another characteristic to look for while finalizing the company for bathroom remodel near me in Harford County is to check the company's mandatory licenses, certifications, & insurance policy before giving the charge of bathroom renovations activity.
In Harford County, with Hammer Home Improvement, one can be carefree about the legitimacy of the company & the insurance policy. Hammer Home Improvement is an insured company with a damage cover facility. We've exciting offers on our remodeling services to help clients with quality bathroom remodel experience without hefty bathroom remodel costs.
3) Should Hold Multitasking Skills
For remodeling services companies, having a wide array of skills related to house renovation is mandatory in today's day and age. Bathroom remodel contractors must know electrical & plumbing-related skills. One must look for competent bathroom remodeling professionals & then proceed further with big or small bathroom remodel projects.
Hammer Home Improvement is a well-reputed home improvement service provider in Harford County. Our company is well-equipped to perform all sorts of damage control. We can multitask in all house remodeling projects in a set time frame.
Upgrade Your Bathroom With Our Bathroom Remodeling Services In Aberdeen, MD!
Hammer Home Improvement is one of the leading names in the bathroom remodeling industry in Harford County. With over ten-plus years of experience & thousands of successful big & small bathroom remodel projects, Hammer Home Improvement is readily available to offer top-notch bathroom remodel packages to its clients in Harford County.
One must consider availing remodeling services from Hammer Home Improvement because of the various perks we offer along with our house remodeling services, such as:
A) Early Birds Special Discounts: Hammer Home Improvement offers 10% off on all bathroom remodeling projects.
B) Zero Percent Financing Available: We offer 0% financing with payment plans starting at $99/month to all our clients across Harford County with no added terms and conditions.
If you are interested in giving your bathroom a complete makeover with top-notch bathroom renovation services in Aberdeen, MD, contact Hammer Home Improvement now. You can call us on 443-364-6245 to get detail about bathroom renovation costs or resolve your queries regarding our bathroom remodeling services.
Useful links for Aberdeen, MD
Directions from Aberdeen, MD to Hammer Home Improvement
---
Here are some home remodeling-related links: