Slide 1
The Basement remodeling pros!
Serving Baltimore and Surrounding Counties for Over 10 Years.
LET'S START WITH A FREE ESTIMATE
Basement Remodeling Phoenix, MD 21131
Turn Your Dingy Basement Into Asset With Basement Remodeling Services In Phoenix, MD
Don't let the most useful space of your home stay unfinished! Basements are the most useful area when used effectively. With basement renovation services at Hammer Home Improvement in Phoenix, MD, you can turn your basement into a cozy place.
The basement is an underutilized area of the house. Issues like mold, mildew and poor air quality are frequent in basements but don't appear in other rooms. Without addressing these issues, finishing a basement renovation poses threats to your home's foundation.
You must avoid DIY basement finishing projects to avoid problems like wetness, low clearance, and a lack of utilities. Instead, hire qualified basement finishing contractors from Hammer Home Improvement.
A business specializing in basement renovations, like Hammer Home Improvement, also has the expertise required for remodeling in Baltimore Country. We are the basement renovation experts in Phoenix, MD.
No matter what you want to transform your basement into—a gaming room, home office, wet bar, man cave, home theater, or living space—our basement finishing contractors always provide excellent work backed by a warranty in Baltimore County.
Important Considerations While Remodeling Your Basement
The majority of homeowners use their basements as a junkyard. A basement is typically not a usable living area in older homes. If you live in an old home, you can overcome challenges and modify the basement to turn these areas into usable space.
Below are the ways to turn your basement into a living space via basement finishing.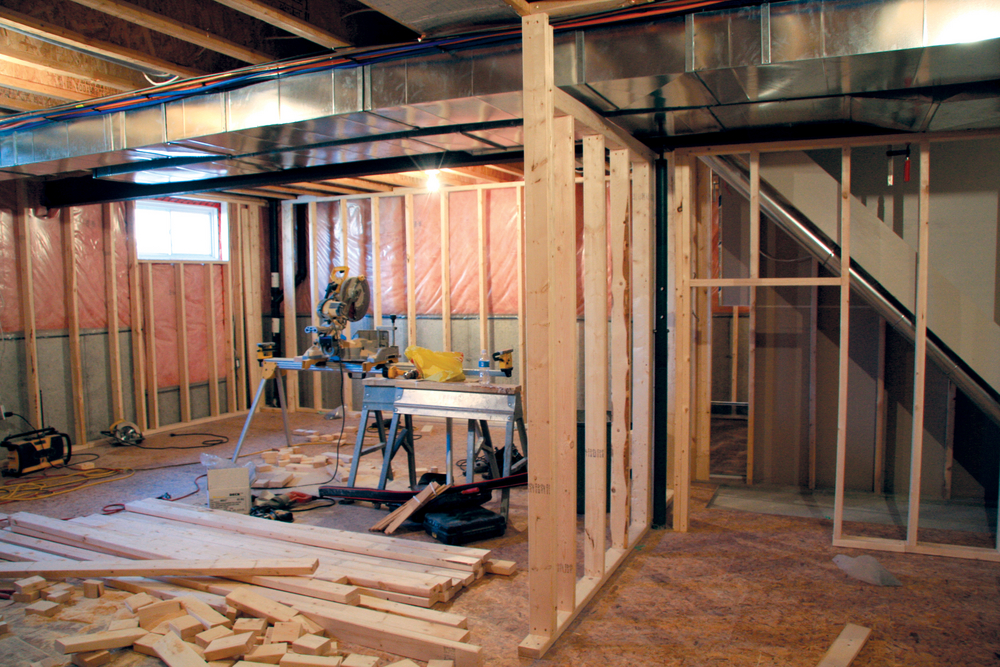 1) Get Rid Of The Moisture
If your basement has a lot of dampness, it might not be the best place to live. Furniture and other home products can be damaged by moisture. To prevent moisture from entering your basement, paint your walls with water-lock paint or caulking to cover any crevices.
2) Construct Walls
Walls divide the space to create rooms for various purposes. They add aesthetic appeal to the space. You can use utility connections such as receptacles, lighting fixtures, and electrical wiring. The walls make it easier to control the temperature in your basement.
3) Decide On Cooling & Heating Needs
Basements are suffocating in the winter & stuffy in the summer if they lack adequate heating and cooling systems. Electric heaters can heat your basement. You can connect them to your HVAC system's ductwork, which may be running through the floor above your basement.
4) Verify Code Compliance
The installation of electrical connections must adhere to building code standards. The code may require you to install a certain number of electrical outlets. Your preferences are secondary. You must follow the building code in these cases.
Average Expenses Of Basement Remodeling Is Lower Than You Think
What is the basement remodeling cost? You don't want to blow all your cash while renovating the new space. You don't want to cut corners when it comes to quality. Your project will be completed faster than expected after our basement finishing contractors give you basement remodeling cost estimates.
Schedule a meeting with one of our basement finishing contractors for a 1:1 discussion to receive a free basement remodeling cost estimate or learn more about how we can create a basement area tailored for you.
Contact Our Experts For Basement Remodeling Services!
One of the best methods to increase the usable living space in your house is to rebuild the basement. Basement renovations are a wise investment in Baltimore County. If you want to sell your house in the next several years, finishing an unfinished or outdated basement to create a contemporary living area will increase its value.
At Hammer Home Improvement, our basement finishing contractors have years of expertise in basement remodeling for homes and can assist you in turning your basement into the space of your dreams.
Our basement finishing contractors provide basement renovation and basement finishing services to homeowners in Phoenix, MD who want to add extra living space to their houses. Contact basement finishing contractors at Hammer Home Improvement at 443-364-6245 to discuss your basement remodeling cost estimates.
Useful links for Phoenix, MD
Directions from Phoenix, MD to Hammer Home Improvement
---
Here are some home remodeling-related links: